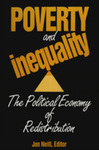 Publication Date
1-1-1996
DOI
10.17848/9780585314402
Abstract
Despite the nation's significant and prolonged economic growth during the 1990s, the portion of aggregate income going to the poorest 20 percent of the population declined, while that of the richest 20 percent grew. The contributors to this volume examine the extent and reasons behind this distribution.
Files
Download 1. Introduction / Jon Neill (439 KB)
Download 2. Welfare Report - 1996 Style / Robert Haveman (1.1 MB)
Download 3. Why Has Economic Growth Been Such an Ineffective Tool Against Poverty in Recent Years? / Rebecca M. Blank (909 KB)
Download 4. Regional Poverty and Inequality in the United States / John P. Formby (1.8 MB)
Download 5. The International Evidence on Income distribution in Modern Economics / Timothy M. Smeeding (1.4 MB)
Download 6. From Parent to Child / Jere R. Behrman (1.3 MB)
Download 7. The Reality of Redistribution / Gordon Tullock (767 KB)
Sponsorship
Financial support provided by the W.E. Upjohn Institute for Employment Research
ISBN
9780880991827 (cloth) ; 9780880991810 (pbk.) ; 9780585314402 (ebook)
Subject Areas
LABOR MARKET ISSUES; Wages, health insurance and other benefits; Inequality; UNEMPLOYMENT, DISABILITY, and INCOME SUPPORT PROGRAMS; Poverty and income support; Income support programs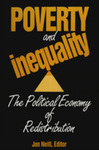 Included in
COinS
Citation
Neill, Jon, ed. 1997. Poverty and Inequality: The Political Economy of Redistribution. Kalamazoo, MI: W.E. Upjohn Institute for Employment Research. https://doi.org/10.17848/9780585314402
Creative Commons License


This work is licensed under a Creative Commons Attribution-NonCommercial-Share Alike 4.0 International License.