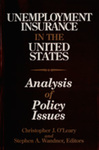 Upjohn Author ORCID Identifier
Publication Date
1-1-1997
DOI
10.17848/9780585338408
Abstract
This book presents 15 original essays that reflect the state of knowledge on policy issues critical to the performance and success of the nation's UI system. The essays are based on program data, enabling the authors to provide analyses on and recommendations for issues at the forefront of the UI policy debate. Topics include coverage, eligibility, adequacy and duration of benefits, labor market attachment, benefit financing, fraud and abuse, the intersection of UI with other income maintenance programs, federal-state relations (including devolution), and more.
Files
Download 1. Policy Issues / Saul J. Blaustein, Christopher J. O'Leary, Stephen A. Wandner (3.0 MB)
Download 2. Coverage and Recipiency / Laurie J. Bassi, Daniel P. McMurrer (2.2 MB)
Download 3. Initial Eligibility for Unemployment Compensation / Walter Nicholson (2.0 MB)
Download 4. Continuing Eligibility / Patricia M. Anderson (2.2 MB)
Download 5. Adequacy of the Weekly Benefit Amount / Christopher J. O'Leary, Murray A. Rubin (2.7 MB)
Download 6. The Duration of Benefits / Stephen A. Woodbury, Murray A. Rubin (4.3 MB)
Download 7. Work Incentives and Disincentives / Paul T. Decker (2.1 MB)
Download 8. Financing Benefit Payments / Phillip B. Levine (2.1 MB)
Download 9. Trends in Unemployment Benefit Financing / Mike Miller, Robert Pavosevich, Wayne Vroman (2.8 MB)
Download 10. Fraud, Abuse, and Errors in the Unemployment Insurance System / Burman Skrable (2.0 MB)
Download 11. The Role of the Employment Service / David E. Balducchi, Terry R. Johnson, R. Mark Gritz (3.0 MB)
Download 12. Intersection of Unemployment Insurance with other Programs and Policies / Walter S. Corson (2.5 MB)
Download 13. Federal-State Relations / Thomas E. West, Gerard Hildebrand (3.3 MB)
Download 14. Unemployment Compensation in the Group of Seven Nations / James R. Storey, Jennifer A. Niesner (3.1 MB)
Download 15. Summing Up / Christopher J. O'Leary, Stephen A. Wandner (3.1 MB)
Download Appendix A : Significant Benefit Provisions of State Unemployment Insurance Laws (104 KB)
Download Appendix B : Selected Unemployment Insurance Financial Data (216 KB)
Note
Originally written for and presented at a conference held in June 1995 at Kalamazoo, Michigan. The conference was jointly sponsored by the U.S. Department of Labor and the W.E. Upjohn Institute for Employment Research
ISBN
9780880991742 (cloth) ; 9780880991735 (pbk.) ; 9780585338408 (ebook)
Subject Areas
UNEMPLOYMENT, DISABILITY, and INCOME SUPPORT PROGRAMS; Unemployment insurance; Benefits and duration; Benefit financing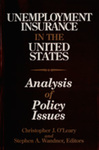 Included in
COinS
Citation
O'Leary, Christopher J., and Stephen A. Wandner, eds. 1997. Unemployment Insurance in the United States: Analysis of Policy Issues. Kalamazoo, MI: W.E. Upjohn Institute for Employment Research. https://doi.org/10.17848/9780585338408
Creative Commons License


This work is licensed under a Creative Commons Attribution-NonCommercial-Share Alike 4.0 International License.