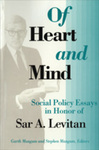 Publication Date
1-1-1996
DOI
10.17848/9780585280295
Abstract
The essays in this volume, authored by close friends, associates and students of Sar Levitan, pay tribute to the enduring mark he left on the field of social policy. The book is loosely organized around the method of analysis taught and practiced by Levitan: identifying problems through the examination of facts, developing a thorough understanding of institutions, assessing institutional policies, and evaluating policy options.
Files
Download 1. Introduction / Stephen Mangum (803 KB)
Download 2. Secular Rabbi : The Life and Times of Sar A. Levitan / Garth Mangum (3.1 MB)
Download 3. Young Workers, Young Families, and Child Poverty / Andrew Sum, Clifford Johnson, Neal Fogg (1.7 MB)
Download 4. Ethnic Differences in School Departure / Marta Tienda, Avner Ahituv (1.0 MB)
Download 5. MDTA and CETA / Eli Ginzberg (1.2 MB)
Download 6. Vocational Education Accountability in a "Block-Grant-to-States" World / David W. Stevens (1.5 MB)
Download 7. Employment Service Revisitied / Miriam Johnson (1.4 MB)
Download 8. Contingent Work and the Rold of Labor market Intermediaries / Audrey Freedman (2.1 MB)
Download 9. Minimum Wage Policy and Research / Stephen E. Baldwin, Robert S. Goldfarb (1.0 MB)
Download 10. Public Sector Job Creation / William Grinker (1.4 MB)
Download 11. Achieving National Economic and Social Goals / Vernon M. Briggs, Jr. (1.0 MB)
Download 12. The Baby and the Bath Water / Burt S. Barnow, Christopher T. King (1.2 MB)
Download 13. Toward Quality Programs for At-Risk Youth / Susan P. Curnan, Alan Melchior, Alan Zuckerman (1.1 MB)
Download 14. Welfare Reform / Irene Lurie (1.4 MB)
Download 15. What Should Be Our Human Captial Investment Policy? / James J. Heckman (1.1 MB)
Download 16. Employment and Unemployment Statistics Revisited / Markley Roberts (871 KB)
Download 17. The Prospects for Arbitration in the Nonunion Sector / Trevor Bain (814 KB)
ISBN
9780880991711 (pbk.) ; 9780585280295 (ebook)
Subject Areas
EDUCATION; UNEMPLOYMENT, DISABILITY, and INCOME SUPPORT PROGRAMS; WORKFORCE DEVELOPMENT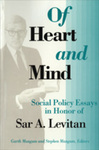 Included in
COinS
Citation
Mangum, Garth, and Stephen Mangum, eds. 1996. Of Heart and Mind: Social Policy Essays in Honor of Sar A. Levitan. Kalamazoo, MI: W.E. Upjohn Institute for Employment Research. https://doi.org/10.17848/9780585280295
Creative Commons License


This work is licensed under a Creative Commons Attribution-NonCommercial-Share Alike 4.0 International License.