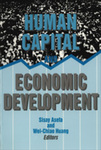 Publication Date
1-1-1994
DOI
10.17848/9780880995689
Abstract
Six essays are presented that explore human capital and its relationship to issues such as demographics, population growth, families, workplace training and economic progress.
Files
Download 1. Introduction / Sisay Asefa and Wei-Chiao Huang (683 KB)
Download 2. The Birth Dearth, Aging, and the Economy / Richard A. Easterlin (1.2 MB)
Download 3. Can There Be Too Much Human Capital? / D. Gale Johnson (1.5 MB)
Download 4. Human Capital Accumulation, the Family, and Economic Development / Mark R. Rosenzweig (1.6 MB)
Download 5. Can the U.S. System of Workplace Training Survive Global Competition? / Peter B. Doeringer (1.1 MB)
Download 6. Workplace Training in the United States / Ann P. Bartel (1.1 MB)
Download 7. The Very-Long-Run Effect of Human Capital on Human Progress / Julian L. Simon (1.7 MB)
Note
Six essays based on lectures sponsored by the Dept. of Economics, Western Michigan University, during the academic year 1992-93
ISBN
9780880991483 (cloth) ; 9780880991476 (pbk.) ; 9780880995689 (ebook)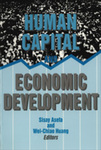 Included in
COinS
Citation
Asefa, Sisay and Wei-Chiao Huang, eds. 1994. Human Capital and Economic Development. Kalamazoo, MI: W.E. Upjohn Institute for Employment Research. https://doi.org/10.17848/9780880995689
Creative Commons License


This work is licensed under a Creative Commons Attribution-NonCommercial-Share Alike 4.0 International License.