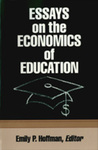 Publication Date
1-1-1993
DOI
10.17848/9780880995542
Abstract
The contributors provide an economic perspective on a wide range of education-related issues related to K-12 and higher education.
Files
Download 1. Introduction / Emily P. Hoffman (744 KB)
Download 2. The Economics of Education for At-Risk Students / Henry M. Levin (1.5 MB)
Download 3. Can Equity Be Separated from Effieciency in School Finance Debates? / Eric A. Hanushek (2.5 MB)
Download 4. Can Schools Be Held Accountable for Good Performance? / Robert H. Meyer (1.7 MB)
Download 5. College Choice, Academic Achievement and Future Earnings / Estelle James (1.5 MB)
Download 6. The Financial Squeeze on Higher Education Institutions and Students / W. Lee Hansen (1.5 MB)
Download 7. The Economics of Education in a World Of Change / Mary Jean Bowman (823 KB)
Note
Papers were originally presented during the 1991-1992 academic year as the 28th annual Public Lecture Series organized by the Department of Economics at Western Michigan University.
ISBN
9780880991414 (pbk.) ; 9780880995542 (ebook)
Subject Areas
EDUCATION; K-12 Education; Postsecondary education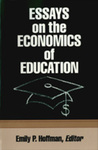 Included in
COinS
Creative Commons License


This work is licensed under a Creative Commons Attribution-NonCommercial-Share Alike 4.0 International License.