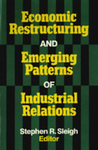 Publication Date
1-1-1993
DOI
10.17848/9780880995566
Abstract
This book's essays analyze innovative responses by unions, corporations and governments to job loss caused by economic restructuring, drawing on examples from Western Europe and the U.S.
Files
Download 1. Introduction / Stephen R. Sleigh (1.2 MB)
Download 2. Economic Development and Industrial Relations in a Small-Firm Economy : The Experience of Metalworkers in Emilia-Romangna, Italy / Bruce Herman (1.4 MB)
Download 3. Managing Local Development : Lessons from Spain / Michael Barzelay (1.7 MB)
Download 4. Worker Democracy in Socialist France / Bernard E. Brown (835 KB)
Download 5. International Competition and the Organization of Production : The Study Action Team Process at Trico Products / Peter Lazes (849 KB)
Download 6. Collaborative Restructuring Efforts : Textile and Apparel Labor-Management Innovation Network, Lehigh Valley, Pennsylvania / Robery Coy, Saul Rubinstein, Michael Shay (1.1 MB)
Download 7. Labor and Industrial Relations Strategies in the State of Michigan / Michael Schippani (764 KB)
Download 8. Applying Skills-Based Automation Through Participatory Management : The Center for Applied Technology / Frank Emspak (1.1 MB)
Download 9. Social Democratic Trade Unions and Politics : Can the End of the Social Democratic Trade Unions be the Beginning of a New Kind of Social Democratic Politics? / Charles F. Sabel (2.1 MB)
Download 10. Training and the New Industrial Relations : A Strategic Role for Unions / Wolfgang Streeck (1.6 MB)
ISBN
9780880991315 (pbk.) ; 9780880995566 (ebook)
Subject Areas
LABOR MARKET ISSUES; Employment relationships; Unions and collective bargaining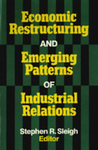 COinS
Citation
Sleigh, Stephen R., ed. 1993. Economic Restructuring and Emerging Patterns of Industrial Relations. Kalamazoo, MI: W.E. Upjohn Institute for Employment Research. https://doi.org/10.17848/9780880995566
Creative Commons License


This work is licensed under a Creative Commons Attribution-NonCommercial-Share Alike 4.0 International License.