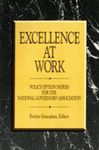 Publication Date
1-1-1992
DOI
10.17848/9780880995504
Abstract
State-level initiatives are proposed that address key issues affecting the competitiveness of the U.S. economy.
Files
Download 1. Introduction / David Bedford and Evelyn Ganzglass (765 KB)
Download 2. State Strategies for Manufacturing Modernization / Brian Bosworth (3.3 MB)
Download 3. State Strategies for Building Market-Based Workforce Preparation Systems / Robert G. Sheets, David W. Stevens (2.5 MB)
Download 4. The Flexible Workplace / Barney Olmsted and Stephen Trippe (2.1 MB)
Download 5. Health Benefits in a Changing Economic Environment / John Luehrs (1.4 MB)
Sponsorship
National Governors' Association
ISBN
9780880991223 (pbk.) ; 9780880995504 (ebook)
Subject Areas
ECONOMIC DEVELOPMENT; WORKFORCE DEVELOPMENT; Job skills and standards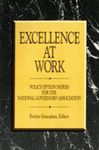 Included in
COinS
Citation
Ganzglass, Evelyn, ed. 1992. Excellence at Work: Policy Option Papers for the National Governors' Association . Kalamazoo, MI: W.E. Upjohn Institute for Employment Research. https://doi.org/10.17848/9780880995504
Creative Commons License


This work is licensed under a Creative Commons Attribution-NonCommercial-Share Alike 4.0 International License.