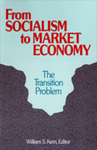 Publication Date
1-1-1992
DOI
10.17848/9780880995641
Abstract
This group of essays examines the ongoing economic struggles experienced by former Soviet-bloc countries as they attempt to establish market-based economies.
Files
Download 1. Introduction / William S. Kern (515 KB)
Download 2. Roadblocks to Changing Economic Systems in Eastern Europe / Paul Marer (1.7 MB)
Download 3. Soviet Economic Reform Under Gorbachev / Abram Bergson (1.1 MB)
Download 4. Reconstructing the Soviet Planned Economy / Joseph S. Berliner (1.3 MB)
Download 5. Soviet Bureaucracy and Economic Reform / Paul R. Gregory (565 KB)
Download 6. Soviet Economic Reform / Herbert S. Levine (880 KB)
Download 7. The Economic Transformation of Eastern Europe / Josef C. Brada (1.9 MB)
Note
The papers in this volume were presented during the twenty-seventh Annual Lecture-Seminar Series conducted by the Department of Economics at Western Michigan University during the 1990-91 school year.
Sponsorship
The series is made possible through the generous financial support of the W.E. Upjohn Institute for Employment Research and the College of Arts and Sciences of Western Michigan University
ISBN
9780880991308 (pbk.) ; 9780880995641 (ebook)
Subject Areas
INTERNATIONAL ISSUES; International labor comparisons; Transition economies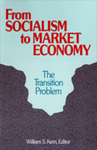 Included in
COinS
Citation
Kern, William S., ed. 1992. From Socialism to Market Economy: The Transition Problem. Kalamazoo, MI: W.E. Upjohn Institute for Employment Research. https://doi.org/10.17848/9780880995641
Creative Commons License


This work is licensed under a Creative Commons Attribution-NonCommercial-Share Alike 4.0 International License.