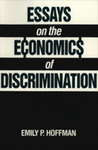 Publication Date
1-1-1991
DOI
10.17848/9780585255859
Abstract
This book explores the effects of discrimination on the economic outcomes of various societal groups.
Files
Download 1. Introduction / Emily P. Hoffman (485 KB)
Download 2. Discrimination in Labor Markets / Edward P. Lazear (987 KB)
Download 3. Discrimination Within the Family / Paul J. Taubman (1.0 MB)
Download 4. The Deteriorating Economic Circumstances of Children / Barbara L. Wolfe (1.3 MB)
Download 5. Underclass and Overclass / William A. Darity, Jr. (1.1 MB)
Download 6. The Federal Anti-Bias Effort / Jonathan S. Leonard (1.7 MB)
Download 7. The Uses and Limits of Statistical Analysis in Measuring Economic Discrimination / Glen G. Cain (1.6 MB)
Download 8. Occupational Segregation and the Earnings Gap / Marianne A. Ferber, Carole A. Green (1.1 MB)
Note
Papers ... originally presented during the 1989-1990 academic year as the 26th annual Public lecture series organized by the Department of Economics at Western Michigan University
ISBN
9780880991124 (cloth) ; 9780880991117 (pbk.) ; 9780585255859 (ebook)
Subject Areas
LABOR MARKET ISSUES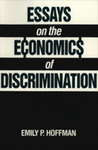 Included in
COinS
Creative Commons License


This work is licensed under a Creative Commons Attribution-NonCommercial-Share Alike 4.0 International License.