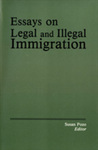 Publication Date
1-1-1986
DOI
10.17848/9780880995559
Abstract
Immigration is an issue drawing increased attention among policymakers and citizens. These essays provide an economic perspective to the effects of immigration on the labor markets in the United States.
Files
Download 1. The Many Guises of Immigration Reform / Susan Pozo (375 KB)
Download 2. Immigrants and the U.S. Labor Market / George J. Borjas (183 KB)
Download 3. Can International Migration be Controlled? / Michael J. Piore (271 KB)
Download 4. The Imperative of Immigration Reform / Vernon M. Briggs, Jr. (353 KB)
Download 5. The Illegal Alien Policy Dilemma / Barry R. Chiswick (202 KB)
Download 6. Immigration and the U.S. Taxpayer / Francine D. Blau (280 KB)
Download 7. U.S. Immigration Policy, What Next? / Jagdish N. Bhagwati (240 KB)
Note
Papers presented in a seminar series conducted by the Department of Economics at Western Michigan University
Sponsorship
Financial support from the W.E. Upjohn Institute for Employment Research and the Collge of Arts and Sciences of Western Michigan University
ISBN
9780880990400 (pbk.) ; 9780880995559 (ebook)
Subject Areas
INTERNATIONAL ISSUES; Immigration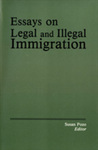 Included in
COinS
Creative Commons License


This work is licensed under a Creative Commons Attribution-NonCommercial-Share Alike 4.0 International License.