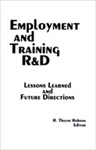 Publication Date
1-1-1984
DOI
10.17848/9780880995580
Abstract
Papers by Eli Ginzburg, Howard Rosen, Gary Burtless, Robert Haveman, and Daniel Saks explore employment and training policy.
Files
Download 1. Expanding the Knowledge Base for Informed Public Policy (572 KB)
Download 2. A Research Agenda for Employment and Training Policy in the Eighties / Daniel H. Saks (363 KB)
Download 3. An Administrator's Reflections / Howard Rosen (464 KB)
Download 4. Policy Lessons from Three Labor Market Experiments / Gary Burtless and Robert H. Haveman (377 KB)
Note
Conference proceedings of the National Council on Employment Policy, January 26-27, 1984
Sponsorship
National Council on Employment Policy
ISBN
9780880990172 (cloth) ; 9780880990189 (pbk.) ; 9780880995580 (ebook)
Subject Areas
WORKFORCE DEVELOPMENT; Public training programs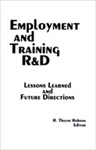 Included in
COinS
Citation
Robson, R. Thayne, ed. 1984. Employment and Training R&D Lessons Learned and Future Directions. Kalamazoo, MI: W.E. Upjohn Institute for Employment Research. https://doi.org/10.17848/9780880995580
Creative Commons License


This work is licensed under a Creative Commons Attribution-NonCommercial-Share Alike 4.0 International License.