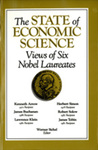 Publication Date
1-1-1989
DOI
10.17848/9780880995962
Abstract
Six distinguished Nobel Laureates offer their views on the current state of economic science in a thought-provoking yet straightforward set of essays.
Files
Note
Based on lectures presented at Western Michigan University 1988-1989 by Kenneth Arrow, James Buchanan, Lawrence Klein, Herbert Simon, Robert Solow and James Tobin
ISBN
9780880990837 (pbk.) ; 9780880995962 (ebook)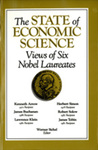 Included in
COinS
Citation
Sichel Werner, ed. 1989. The State of Economic Science: Views of Six Nobel Laureates. Kalamazoo, MI: W.E. Upjohn Institute for Employment Research. https://doi.org/10.17848/9780880995962
Creative Commons License


This work is licensed under a Creative Commons Attribution-NonCommercial-Share Alike 4.0 International License.