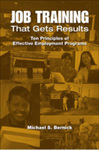 Publication Date
11-30-2005
DOI
10.17848/9781429454834
Abstract
Bernick shows the types of training programs that work and describes for whom they work. He identifies ways to improve performance among Workforce Investment Act (WIA) contractors while exploring the best uses for state discretionary WIA funds. He also describes what it takes to make an effective career ladder program, how postemployment welfare retention or skill advancement programs can succeed, and the type of training that workers with disabilities must go through to get and retain jobs.
Files
Download 1. Overview: The Ten Principles (108 KB)
ISBN
9780880992817 (cloth) ; 9780880992830 (pbk.) ; 9781429454834 (ebook)
Subject Areas
WORKFORCE DEVELOPMENT; Public training programs; WIA, JTPA, and CETA; On the job training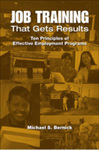 Included in
COinS
Citation
Bernick, Michael S. 2005. Job Training That Gets Results: Ten Principles of Effective Employment Programs. Kalamazoo, MI: W.E. Upjohn Institute for Employment Research. https://doi.org/10.17848/9781429454834
Creative Commons License


This work is licensed under a Creative Commons Attribution-NonCommercial-Share Alike 4.0 International License.