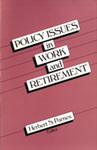 Publication Date
1-1-1983
DOI
10.17848/9780880995900
Abstract
This is a collection of papers that focuses on the human resource implications of individual and population aging.
Files
Download 1. Introduction and Overview / Herbert S. Parnes (324 KB)
Download 2. Life Without Work: Does It Make Sense? / Eli Ginzberg (118 KB)
Download 3. Aging, Health, and Work / Leon F. Koyl (215 KB)
Download 4. Health and Retirement; Retirement and Health / Carl Eisdorfer and Donna Cohen (418 KB)
Download 5. Keeping Older Workers on the Job: Methods and Inducements / Daniel E. Knowles (125 KB)
Download 6. Maximizing Post-Retirement Labor Market Opportunities / Anna Marie Buchmann (481 KB)
Download 7. Age Discrimination in Employment / Stephen R. McConnell (420 KB)
Download 8. Financing Options for Social Security / Alicia H. Munnell (522 KB)
Download 9. Private Pensions, Inflation, and Employment / James H. Schulz (483 KB)
Note
Proceedings of the Conference on Policy Issues in Work and Retirement held Oct. 1982, New Brunswick, N.J., sponsored by the Institute of Management and Labor Relations and Institute on Aging at Rutgers University, and the National Council on the Aging, Washington, D.C.
Sponsorship
Financial support provided by the Retirement Research Foundation
ISBN
9780880990103 (pbk.) ; 9780880995900 (ebook)
Subject Areas
LABOR MARKET ISSUES; Retirement and pensions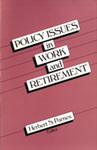 Included in
COinS
Creative Commons License


This work is licensed under a Creative Commons Attribution-NonCommercial-Share Alike 4.0 International License.