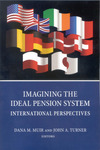 Publication Date
1-1-2011
DOI
10.17848/9780880993920
Abstract
Muir and Turner gather an international roster of pension experts who present what they think would be the ideal pension systems for their countries and why. Those countries include the United States, the UK, Ireland, Denmark, Germany, Belgium, France, Switzerland, Poland, and Japan.
Files
Download 1. Constructing the Ideal Pension System / Dana M. Muir and John A. Turner (551 KB)
Download 2. Imagining the Ideal U.S. Pension System / John A. Turner and Dana M. Muir (442 KB)
Download 3. Imagining the Ideal UK Pension System / Bryn Davies (501 KB)
Download 4. Public and Private Provision of Pensions and the Ideal Pension System for Ireland / Gerard Hughes and Jim Stewart (786 KB)
Download 5. The Optimal Pension System / Finn Østrup (426 KB)
Download 6. German Private Pension Law / Markus Roth (478 KB)
Download 7. The Ideal Pension System for Belgium / Kim De Witte (477 KB)
Download 8. Toward the Ideal Pension System for France / Lucy apRoberts and Pierre Concialdi (507 KB)
Download 9. Aging in the Shadow of the Three Pillars / Matthieu Leimgruber (483 KB)
Download 10. The Role of Occupational Pension Plans in an Optimal Polish Pension System / Marek Szczepański (611 KB)
Download 11. How to Establish a Better Corporate Pension System in Japan / Noriyasu Watanabe (432 KB)
ISBN
9780880993821 (cloth) ; 9780880993814 (pbk.) ; 9780880993920 (ebook)
Subject Areas
LABOR MARKET ISSUES; Retirement and pensions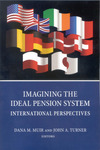 Included in
COinS
Citation
Muir, Dana M. and John A. Turner, eds. 2011. Imagining the Ideal Pension System: International Perspectives. Kalamazoo, MI: W.E. Upjohn Institute for Employment Research. https://doi.org/10.17848/9780880993920
Creative Commons License


This work is licensed under a Creative Commons Attribution-NonCommercial-Share Alike 4.0 International License.