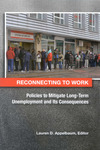 Publication Date
1-1-2012
DOI
10.17848/9780880994095
Abstract
The goal of this book is to enable a better understanding of the consequences of long-term unemployment and the policies that are needed to address it. The contributors present research that examines the psychological as well as economic consequences of experiencing a prolonged spell of joblessness. Included are discussions of policies to increase job creation and to get the long-term unemployed back into jobs.
Files
Download Epub version (1.8 MB)
Download Foreword / Richard B. Freeman (266 KB)
Download 1. Introduction / Lauren D. Appelbaum (274 KB)
Download 2. Job Displacements in Recessions / Till von Wachter (281 KB)
Download 3. Labor Market Policy in the Great Recession / John Schmitt (398 KB)
Download 4. Causality in the Relationship between Mental Health and Unemployment / Timothy M. Diette, Arthur H. Goldsmith, Darrick Hamilton, and William Darity Jr. (333 KB)
Download 5. Work Together to Let Everyone Work: A Study of the Cooperative Job- Placement Effort in the Netherlands / Hilbrand Oldenhuis and Louis Polstra (270 KB)
Download 6. Stabilizing Employment / Vera Brusentsev and Wayne Vroman (287 KB)
Download 7. Labor Market Measures in the Crisis and the Convergence of Social Models / Michele Tiraboschi and Silvia Spattini (626 KB)
ISBN
9780880994088 (cloth) ; 9780880994064 (pbk.) ; 9780880994095 (ebook)
Subject Areas
UNEMPLOYMENT, DISABILITY, and INCOME SUPPORT PROGRAMS; Unemployment insurance; Benefits and duration; Short time compensation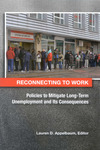 Included in
COinS
Citation
Appelbaum, Lauren D., ed. 2012. Reconnecting to Work: Policies to Mitigate Long-Term Unemployment and Its Consequences. Kalamazoo, MI: W.E. Upjohn Institute for Employment Research. https://doi.org/10.17848/9780880994095
Creative Commons License


This work is licensed under a Creative Commons Attribution-NonCommercial-Share Alike 4.0 International License.