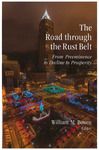 Publication Date
1-1-2014
DOI
10.17848/9780880994774
Abstract
The chapters in this book explore reasons for the decline of "Rust Belt" cities and the often innovative responses of local leaders and entrepreneurs that are helping to revive these areas.
Files
Download Epub version (4.5 MB)
Download 1. Introduction / Edward W. (Ned) Hill (224 KB)
Download 2. Midwestern Urban and Regional Responses to Global Economic Transition / William M. Bowen and Kelly L. Kinahan (227 KB)
Download 3. Can Tax Expenditures Stimulate Growth in Rust Belt Cities? / Benjamin Y. Clark (236 KB)
Download 4. The Evolution of Clusters and Implications for the Revival of Old Industrial Cities / Haifeng Qian (405 KB)
Download 5. Stop Shovelling / Joel A. Elvery (246 KB)
Download 6. Distinctly Cleveland / Gregory M. Sadlek and Joan Chase (277 KB)
Download 7. How Energy Policy Enabled the Decline of Midwestern Cities, and How It Can Contribute to Their Rehabilitation / Andrew R. Thomas (339 KB)
Download 8. Entrepreneurial Initiatives in Chinese Markets / Chieh-Chen Bowen (235 KB)
Download 9. Barriers and Opportunities for Entrepreneurship in Older Industrial Regions / Ziona Austrian and Merissa C. Piazza (276 KB)
Download 10. Reasons for Misgivings about Local Economic Development Initiatives / William M. Bowen and Chang-Shik Song (261 KB)
Download 11. Lost a Step / David R. Elkins (294 KB)
ISBN
9780880994767 (cloth) ; 9780880994750 (pbk.) ; 9780880994774 (ebook)
Subject Areas
ECONOMIC DEVELOPMENT; Industry studies; Entrepreneurship and innovation; Regional policy and planning; WORKFORCE DEVELOPMENT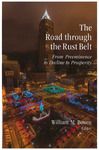 COinS
Citation
Bowen, William M. ed. 2014. The Road through the Rust Belt: From Preeminence to Decline to Prosperity. Kalamazoo, MI: W.E. Upjohn Institute for Employment Research. https://doi.org/10.17848/9780880994774
Creative Commons License


This work is licensed under a Creative Commons Attribution-NonCommercial-Share Alike 4.0 International License.