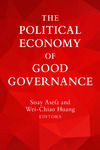 Publication Date
1-1-2015
DOI
10.17848/9780880994989
Abstract
The contributors to this book capture several of the key dimensions of good governance, as well as what deleterious and negative consequences may arise in its absence. They draw analysis and solutions from diverse sectors such as economics, public administration, management, and political science, in order to treat some of the most pressing societal issues of our time. They connect the importance of education, health, climate change, and poverty to address the challenges of creating a world where more countries embrace good governance policies to benefit their peoples.
Files
Download Epub version (17.4 MB)
Download 1. Introduction / Sisay Asefa and Wei-Chiao Huang (220 KB)
Download 2. The Role of Performance Management in Good Governance / Carolyn J. Heinrich (207 KB)
Download 3. Political Parties, Democracy, and "Good Governance" / John Ishiyama (247 KB)
Download 4. Good Governance in Transition Economies / Susan J. Linz (385 KB)
Download 5. Governance Challenges in Education and Health Care in Developing Countries / Seema Jayachandran (217 KB)
Download 6. Governance Problems and Priorities for Local Climate Adaptation and Poverty Alleviation / Stephen C. Smith (253 KB)
Download 7. The Challenges of Good Governance and Leadership in Developing Countries / Sisay Asefa and Wei-Chiao Huang (261 KB)
Note
The chapters in this volume are based on lectures from the forty-ninth Werner Sichel Lecture Series in 2012-2013 at Western Michigan University.
ISBN
9780880994972 (cloth) ; 9780880994965 (pbk.) ; 9780880994989 (ebook)
Subject Areas
INTERNATIONAL ISSUES; International labor comparisons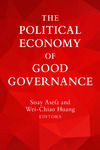 Included in
COinS
Citation
Asefa, Sisay and Wei-Chiao Huang, eds. 2015. The Political Economy of Good Governance. Kalamazoo, MI: W.E. Upjohn Institute for Employment Research. https://doi.org/10.17848/9780880994989
Creative Commons License


This work is licensed under a Creative Commons Attribution-NonCommercial-Share Alike 4.0 International License.