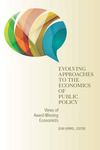 Publication Date
1-1-2016
DOI
10.17848/9780880995146
Abstract
For policymakers, economics is a useful tool in the development and evaluation of public policy. And like many sciences, economics is evolving to become more interdisciplinary in its approach. Today, economic theory is often used in conjunction with insights gleaned from psychology and sociology to create a more inclusive, real-world approach to implementing public policy. In this book, five award-winning economists tackle a diverse range of topics and show how applied economics has evolved to give policymakers a more nuanced approach to policy development. The award-winning economists included in this volume are Erica Field, Nancy Folbre, Avner Grief, David M. Kreps, and Michael J. Piore, and the topics they discuss include microfinance, human capital, societal institutions, worker motivation, and workplace regulation.
Files
Download Epub version (2.1 MB)
Download 1. Introduction / Jean Kimmel (157 KB)
Download 2. Microfinance / Erica Field, Abraham Holland, and Rohini Pande (174 KB)
Download 3. The Once (But No Longer) Golden Age of Human Capital / Nancy Folbre (232 KB)
Download 4. Society and State in Determining Economic Outcomes / Avner Greif (204 KB)
Download 5. Motivating Consummate Effort / David M. Kreps (255 KB)
Download 6. Efficient and Effective Economic Regulation in a Confusing Technological Environment / Michael J. Piore (159 KB)
Note
The chapters in this volume are based on lectures from the fiftieth Werner Sichel Lecture Series in 2013-2014 at Western Michigan University.
ISBN
9780880995139 (cloth) ; 9780880995122 (pbk.)
Subject Areas
LABOR MARKET ISSUES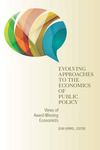 COinS
Citation
Kimmel, Jean, ed. 2016. Evolving Approaches to the Economics of Public Policy: Views of Award-Winning Economists. Kalamazoo, MI: W.E. Upjohn Institute for Employment Research. https://doi.org/10.17848/9780880995146
Creative Commons License


This work is licensed under a Creative Commons Attribution-NonCommercial-Share Alike 4.0 International License.