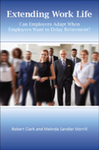 Publication Date
1-1-2017
DOI
10.17848/9780880995290
Abstract
Aging men and women are increasingly remaining in the labor force. Most often the reason for this is that they need to work additional years in order to be able to support an increasing number of years in retirement. This leaves employers scrambling for ways to adapt to a growing number of retirement-aged workers. Clark and Morrill provide a thorough assessment of the costs and benefits of accommodating later retirement ages, and they describe options employers may use to create some new form of employment contract with aging workers.
The most prominent issues employers with aging workers face are declining productivity, rising labor and benefits costs, and a suboptimal age distribution of their workforces. According to the authors, employers could respond to these issues by finding new ways to accommodate older workers with, for instance, phased retirement and return-to-work policies. But the success of such policies also depends on tax policies and whether government-provided retirement benefits could be redesigned to play a role in a newly-defined employment relationship.
ISBN
9780880995283 (pbk.)
Subject Areas
LABOR MARKET ISSUES; Retirement and pensions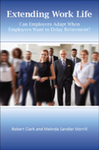 Included in
COinS
Citation
Clark, Robert and Melinda Morrill. 2017. Extending Work Life: Can Employers Adapt When Employees Want to Delay Retirement? Kalamazoo, MI: W.E. Upjohn Institute for Employment Research. https://doi.org/10.17848/9780880995290
Creative Commons License


This work is licensed under a Creative Commons Attribution-NonCommercial-Share Alike 4.0 International License.