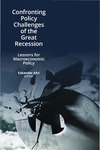 Publication Date
1-1-2017
DOI
10.17848/9780880996389
Abstract
This book presents several notable economists who describe the perils the economy faced during the Great Recession and the policies—some successful, others not so much—that were implemented and why. By now, economists have had nearly a decade to examine the causes and consequences of the damage wrought by the Great Recession, and to assess the ensuing efforts to right the economy. The unprecedented losses, which spread across the global economy, posed extraordinary challenges for central bankers and policymakers alike, who were forced to throw out the playbook and create new, untested means for restoring growth.
Files
Download Epub version (2.0 MB)
Download 1. The Great Recession, Fallout, and What We Learned / Eskander Alvi (485 KB)
Download 2. The Great Depression and the Great Recession in a Historical Mirror / Barry Eichengreen (567 KB)
Download 3. The Great Recession and Lessons for Policymaking / Gary Burtless (681 KB)
Download 4. Central Banking in the Great Recession / Donald Kohn (630 KB)
Download 5. Fiscal Policy and Full Employment / Laurence Ball, J. Bradford DeLong, and Lawrence H. Summers (645 KB)
Download 6. International Dimensions of the Great Recession and the Weak Recovery / Kathryn M.E. Dominguez (738 KB)
Note
The chapters in this volume are based on lectures from the fifty-first Werner Sichel Lecture Series in 2014-2015 at Western Michigan University.
ISBN
9780880996372 (cloth) ; 9780880996365 (pbk.) ; 9780880996389 (ebook)
Subject Areas
LABOR MARKET ISSUES; INTERNATIONAL ISSUES; ECONOMIC DEVELOPMENT; UNEMPLOYMENT, DISABILITY, and INCOME SUPPORT PROGRAMS; WORKFORCE DEVELOPMENT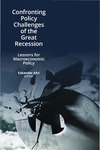 Included in
COinS
Citation
Alvi, Eskander, ed. 2017. Confronting Policy Challenges of the Great Recession: Lessons for Macroeconomic Policy. Kalamazoo, MI: W.E. Upjohn Institute for Employment Research. https://doi.org/10.17848/9780880996389
Creative Commons License


This work is licensed under a Creative Commons Attribution-NonCommercial-Share Alike 4.0 International License.