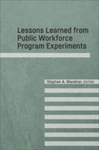 Publication Date
1-1-2017
DOI
10.17848/9780880996310
Abstract
This book chronicles many of the most important experiments and the key lessons derived from the evaluations of both existing large-scale public workforce programs and the development of new interventions—including low-cost experiments based on behavioral science methods.
Files
Download Epub version (510 KB)
Download 1. Introduction / Stephen A. Wandner (291 KB)
Download 2. How On-the-Ground Realities Shape the Design, Implementation, and Results of Experimental Studies / Irma Perez-Johnson, Annalisa Mastri, Samia Amin (349 KB)
Download 3. An Example of a Low-Cost Intervention to Target Services to Participants of a Local Welfare-to-Work Program / Randall W. Eberts (317 KB)
Download 4. Experimental Evaluations and the Evolution of the Reemployment and Eligibility Assessment Program / Jacob M. Benus (325 KB)
Download 5. Incentive Experiments in Unemployment Insurance / Christopher J. O'Leary (453 KB)
ISBN
9780880996303 (pbk.) ; 9780880996310 (ebook)
Subject Areas
UNEMPLOYMENT, DISABILITY, and INCOME SUPPORT PROGRAMS; Unemployment insurance; WORKFORCE DEVELOPMENT; Public training programs; Welfare to work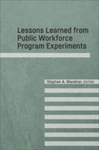 Included in
COinS
Citation
Wandner, Stephen A., ed. 2017. Lessons Learned from Public Workforce Program Experiments. Kalamazoo, MI: W.E. Upjohn Institute for Employment Research. https://doi.org/10.17848/9780880996310
Creative Commons License


This work is licensed under a Creative Commons Attribution-NonCommercial-Share Alike 4.0 International License.