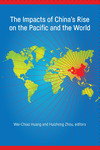 Publication Date
1-1-2018
DOI
10.17848/9780880996358
Abstract
This book provides the perspectives of a group of noted China experts on how China's economic expansion and internal reforms are impacting its neighbors in the Pacific region as well as the United States and the rest of the world.
Files
Download Epub version (3.1 MB)
Download 1. Introduction / Wei-Chiao Huang and Huizhong Zhou (392 KB)
Download 2. The United States and the China Challenge / Murray Scot Tanner (382 KB)
Download 3. Is There a Xi Jinping Model of Economic Reform? / Barry Naughton (467 KB)
Download 4. Understanding the Major Threats to China's Economic Growth / Wing Thye Woo (623 KB)
Download 5. State Enterprise Reform in China / Mary E. Lovely and Yang Liang (467 KB)
Download 6. Why Exit Rights Are the Key to the Reduction of Urban-Rural Income Disparity in China / Guanzhong James Wen (409 KB)
Download 7. Trade, Migration, and Growth / Xiaodong Zhu (633 KB)
Note
The chapters in this volume are based on lectures from the fifty-second Werner Sichel Lecture Series in 2015-2016 at Western Michigan University.
ISBN
9780880996334 (cloth) ; 9780880996327 (pbk.) ; 9780880996358 (ebook)
Subject Areas
INTERNATIONAL ISSUES; Globalization; International labor comparisons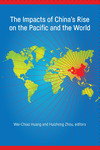 Included in
COinS
Citation
Huang, Wei-Chiao and Huizhong Zhou, eds. 2018. The Impacts of China's Rise on the Pacific and the World. Kalamazoo, MI: W.E. Upjohn Institute for Employment Research. https://doi.org/10.17848/9780880996358
Creative Commons License


This work is licensed under a Creative Commons Attribution-NonCommercial-Share Alike 4.0 International License.