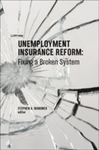 Publication Date
1-1-2018
DOI
10.17848/9780880996532
Abstract
The Unemployment Insurance (UI) system is a lasting piece of the Social Security Act which was enacted in 1935. But like most things that are over 80 years old, it occasionally needs maintenance to keep it operating smoothly while keeping up with the changing demands placed upon it. However, the UI system has been ignored by policymakers for decades and, say the authors, it is broken, out of date, and badly in need of repair.
Stephen A. Wandner pulls together a group of UI researchers, each with decades of experience, who describe the weaknesses in the current system and propose policy reforms that they say would modernize the system and prepare us for the next recession. Contributors include: David E. Balducchi, Christopher J. O'Leary, Suzanne Simonetta, Wayne Vroman, and Stephen A. Wandner.
Files
Download Epub version (3.3 MB)
Download 1. Why the Unemployment Insurance Program Needs to Be Reformed / Stephen A. Wandner (403 KB)
Download 2. UI Reform Proposals in the Fiscal Year 2017 Obama Budget Request / Suzanne Simonetta (1.5 MB)
Download 3. The Employment Service-Unemployment Insurance Partnership: Origin, Evolution, and Revitalization / David E. Balducchi and Christopher J. O'Leary (518 KB)
Download 4. State UI Financing Response to the Great Recession / Wayne Vroman (467 KB)
Download 5. Unemployment Insurance Reform: Evidence-Based Policy Recommendations / Christopher J. O'Leary and Stephen A. Wander (721 KB)
Download 6. Conclusions and Needed Reforms / Stephen A. Wandner (350 KB)
ISBN
9780880996525 (pbk.) ; 9780880996532 (ebook)
Subject Areas
UNEMPLOYMENT, DISABILITY, and INCOME SUPPORT PROGRAMS; Unemployment insurance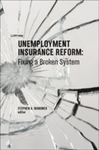 Included in
COinS
Citation
Wandner, Stephen A., ed. 2018. Unemployment Insurance Reform: Fixing a Broken System. Kalamazoo, MI: W.E. Upjohn Institute for Employment Research. https://doi.org/10.17848/9780880996532
Creative Commons License


This work is licensed under a Creative Commons Attribution-NonCommercial-Share Alike 4.0 International License.