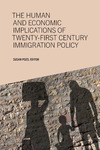 Title
The Human and Economic Implications of Twenty-First Century Immigration Policy
Publication Date
12-1-2018
DOI
10.17848/9780880996570
Abstract
To effectively debate immigration policy we need to be better informed. This book helps by presenting a group of prominent scholars who use data to help unravel the facts. They address immigration's fiscal impacts, immigrants' generational assimilation, enhanced U.S. enforcement, and alternatives for those seeking refugee status. Together, they help move us from the personal to the analytical, providing us a rational appraisal of immigration and the policies currently before us.
Files
Download 1. Immigration Policy Today / Susan Pozo (298 KB)
Note
The chapters in this volume are based on lectures from the fifty-third Werner Sichel Lecture Series in 2016-2017 at Western Michigan University.
ISBN
9780880996563 (cloth) ; 9780880996556 (pbk.) ; 9780880996570 (ebook)
Subject Areas
INTERNATIONAL ISSUES; Immigration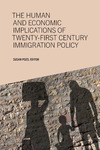 COinS
Citation
Pozo, Susan, ed. 2018. The Human and Economic Implications of Twenty-First Century Immigration Policy. Kalamazoo, MI: W.E. Upjohn Institute for Employment Research. https://doi.org/10.17848/9780880996570
Creative Commons License


This work is licensed under a Creative Commons Attribution-Noncommercial-Share Alike 4.0 License.