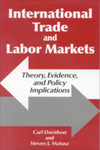 Publication Date
1-1-2004
DOI
10.17848/9781417505920
Abstract
Davidson and Matusz develop simple yet compelling models that allow for documented differences in labor markets across countries in order to investigate the impact of trade and trade policies on society's underclass.
Files
Download 1. An Overview of the Issue (169 KB)
ISBN
9780880992749 (cloth) ; 9780880992732 (pbk.) ; 9781417505920 (ebook)
Subject Areas
LABOR MARKET ISSUES; Job security and unemployment dynamics; Dislocated workers; INTERNATIONAL ISSUES; Globalization; Offshoring; Trade issues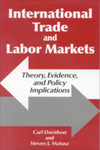 Included in
COinS
Citation
Davidson, Carl, and Steven J. Matusz. 2004. International Trade and Labor Markets: Theory, Evidence, and Policy Implications. Kalamazoo, MI: W.E. Upjohn Institute for Employment Research. https://doi.org/10.17848/9781417505920
Creative Commons License


This work is licensed under a Creative Commons Attribution-NonCommercial-Share Alike 4.0 International License.