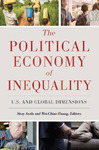 Publication Date
3-19-2020
DOI
10.17848/9780880996730
Abstract
The contributors to this book discuss a variety of forms of social inequality which include large gaps in accumulated assets, discrepancies in access to quality education, unstable family life, lack of access to banking services, poor employment prospects, lack of health care services, and underrepresentation for political and legal matters. Together, they show how these forms of inequality are interrelated with income inequality and that, taken together, they pose the risk for societal and political unrest should they be left unresolved.
Files
Download 1. The Political Economy of Inequality: Introduction / Sisay Asefa and Wei-Chiao Huang (649 KB)
Download 2. The New Inequality: The Distribution of Retirement and Older Working Time in OECD Countries / Teresa Ghilarducci (842 KB)
Download 3. The Economics and Politics of the Fall and Rise of Income Inequality in the United States / Charles L. Ballard (898 KB)
Download 4. America's Unequal Playing Field: The Gaps between Poor and Rich Children's Resources / Mary E. Corcoran (879 KB)
Download 5. Why Has Income Inequality Increased while Education Inequality Has Decreased in Many Developing Countries? / David Lam (2.1 MB)
Download 6. Institutions, Structures, and Policy Paradigms: Toward Understanding Inequality in Africa / Howard Stein (926 KB)
Download 7. Income Inequality, Progressive Taxation, and Tax Expenditures / James R. Hines Jr. (797 KB)
Note
The chapters in this volume are based on lectures from the fifty-fourth Werner Sichel Lecture Series in 2017–2018 at Western Michigan University.
ISBN
9780880996723 (cloth) ; 9780880996716 (pbk.) ; 9780880996730 (ebook)
Subject Areas
LABOR MARKET ISSUES; Retirement and pensions; Wages, health insurance and other benefits; INTERNATIONAL ISSUES; Globalization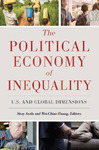 Included in
COinS
Citation
Asefa, Sisay and Wei-Chiao Huang, eds. 2020. The Political Economy of Inequality: U.S. and Global Dimensions. Kalamazoo, MI: W.E. Upjohn Institute for Employment Research. https://doi.org/10.17848/9780880996730
Creative Commons License


This work is licensed under a Creative Commons Attribution-Noncommercial-Share Alike 4.0 License.