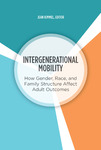 Title
Intergenerational Mobility: How Gender, Race, and Family Structure Affect Adult Outcomes
Publication Date
2-9-2022
DOI
10.17848/9780880996808
Abstract
This volume presents a complex portrait of the interrelationships among parents' marital status and education, child gender, and the nature and success of children's transitions into adulthood. The first three chapters focus on differences in parents' investments in their children, while the final three chapters focus directly on intergenerational income mobility.
Files
Download 1. Introduction and Overview: Intergenerational Mobility in the Modern Era (587 KB)
Note
Upjohn project #69415
The chapters in this volume are based on lectures from the fifty-sixth Werner Sichel Lecture Series in 2019–2020 at Western Michigan University.
ISBN
9780880996785 (pbk.) ; 9780880996808 (ebook)
Subject Areas
EDUCATION; LABOR MARKET ISSUES; Work and family balance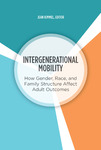 COinS
Citation
Kimmel, Jean, ed. 2021. Intergenerational Mobility: How Gender, Race, and Family Structure Affect Adult Outcomes. Kalamazoo, MI: W.E. Upjohn Institute for Employment Research. https://doi.org/10.17848/9780880996808