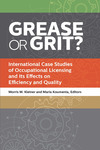 Publication Date
9-15-2022
DOI
10.17848/9780880996877
Abstract
The book provides a comprehensive approach to whether a dominant governmental institution in the labor market-occupational licensing-greases, which enhances, or on the other hand results in grit, which diminishes the efficient workings of labor and service markets in parts of Europe and the United States. The detailed case studies in the book indicate that an increase in the availability of service providers or enhanced competition does not have negative effects on the quality of the services provided, prices, or survey measures of consumer satisfaction.
Files
Download Epub version (12.8 MB)
Download Chapter 1-Audio recording (20.6 MB)
Download 1. Introduction and Overview / Morris M. Kleiner (445 KB)
Download 2. Occupational Licensing Outcomes in the Face of Technological Change: Ridesharing in London and Dublin / Morris M. Kleiner (603 KB)
Download 3. Tougher Licensing Requirements and Quality Outcomes: Driving Instructors in the United Kingdom / Maria Koumenta and Mark Williams (609 KB)
Download 4. Pharmacists in Italy / Eva Pagano, Mario Pagliero, Emanuele Pivetta, and Lorenzo Richiardi (7.5 MB)
Download 5. Deregulation of the Legal Professions in Poland: A Trade-off between Market Growth and Professionalism? / Piotr Białowolski and Michał Masior (576 KB)
Download 6. Restrictions on Health Care Profession Scope of Practice: Do They Help or Harm Patients? / Kihwan Bae and Edward Timmons (8.7 MB)
Download 7. Testing Licensing and Consumer Satisfaction for Beauty Services in the United States / Darwyyn Deyo (6.6 MB)
Download 8. Concluding Thoughts and Policy Recommendations / Maria Koumenta (444 KB)
Note
Upjohn project #69417
ISBN
9780880996860 (pbk.) ; 9780880996877 (ebook)
Subject Areas
LABOR MARKET ISSUES; Occupational regulation and licensing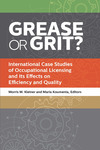 Included in
COinS
Citation
Kleiner, Morris M. and Maria Koumenta, eds. 2022. Grease or Grit?: International Case Studies of Occupational Licensing and Its Effects on Efficiency and Quality. Kalamazoo, MI: W.E. Upjohn Institute for Employment Research. https://doi.org/10.17848/9780880996877
Creative Commons License


This work is licensed under a Creative Commons Attribution-NonCommercial-Share Alike 4.0 International License.