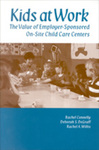 Publication Date
1-1-2004
DOI
10.17848/9781417505913
Abstract
Connelly, DeGraff, and Willis chronicle the trends in the growth in on-site child care programs and perform analyses that shed light on the value of employer-sponsored child care to employees. The authors note that employees may not be the only ones to benefit. Employers may be able to gain wage savings for the firm.
Files
Download 1. Introduction: Policy Issues and Research Questions (89 KB)
ISBN
9780880993050 (cloth) ; 9780880993043 (pbk.) ; 9781417505913 (ebook)
Subject Areas
EDUCATION; Early childhood; Childcare; Preschool and early education; LABOR MARKET ISSUES; Wages, health insurance and other benefits; Nonwage benefits; Work and family balance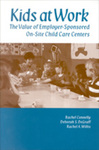 Included in
COinS
Citation
Connelly, Rachel, Deborah S. DeGraff, and Rachel A. Willis. 2004. Kids at Work: The Value of Employer-Sponsored On-Site Child Care Centers. Kalamazoo, MI: W.E. Upjohn Institute for Employment Research. https://doi.org/10.17848/9781417505913
Creative Commons License


This work is licensed under a Creative Commons Attribution-NonCommercial-Share Alike 4.0 International License.