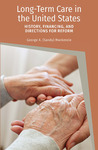 Publication Date
11-28-2022
DOI
10.17848/9780880996891
Abstract
This book is a concise survey of the development of U.S. long-term care and its financing, with comparisons with other rich countries. It also includes a brief comparative account of the impact of the COVID-19 pandemic in the United States and several other countries. The study finds much that is amiss with American long-term care and proposes three sets of progressively more ambitious reforms.
Note
Upjohn project #69419
ISBN
9780880996884 (pbk.) ; 9780880996891 (ebook)
Subject Areas
LABOR MARKET ISSUES; Wages, health insurance and other benefits; Health insurance; Work and family balance; International labor comparisons; On the job training; Employer provided training; Job skills and standards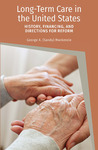 Included in
COinS
Citation
Mackenzie, George A. (Sandy). 2022. Long-Term Care in the United States: History, Financing, and Directions for Reform. Kalamazoo, MI: W.E. Upjohn Institute for Employment Research. https://doi.org/10.17848/9780880996891
Creative Commons License


This work is licensed under a Creative Commons Attribution-NonCommercial-Share Alike 4.0 International License.