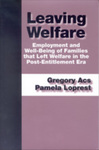 Publication Date
1-1-2004
DOI
10.17848/9781417550012
Abstract
Acs and Loprest pull together information from a host of leaver studies to provide a bottom line assessment of what was learned. They compare welfare leaver outcomes across geographic areas and the nation as a whole. This effort allows them to paint a comprehensive picture of the employment, income, and hardships families experience after leaving welfare.
ISBN
9780880993111 (cloth) ; 9780880993104 (pbk.) ; 9781417550012 (ebook)
Subject Areas
UNEMPLOYMENT, DISABILITY, and INCOME SUPPORT PROGRAMS; Poverty and income support; Income support programs; Low wage labor markets; WORKFORCE DEVELOPMENT; Public training programs; Welfare to work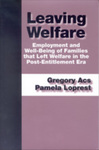 Included in
COinS
Citation
Acs, Gregory, and Pamela Loprest. 2004. Leaving Welfare: Employment and Well-Being of Families that Left Welfare in the Post-Entitlement Era. Kalamazoo, MI: W.E. Upjohn Institute for Employment Research. https://doi.org/10.17848/9781417550012
Creative Commons License


This work is licensed under a Creative Commons Attribution-NonCommercial-Share Alike 4.0 International License.