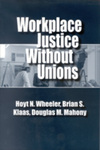 Publication Date
1-1-2004
DOI
10.17848/9781417550029
Abstract
Wheeler, Klaas, and Mahony provide a thorough analysis of organizational justice systems by exploring nonunion systems of workplace justice and comparing them with the union system, American courts, and systems in 11 other countries.
Files
Download 1. Workplace Justice in the United States: An Introduction (109 KB)
ISBN
9780880993135 (cloth) ; 9780880993128 (pbk.) ; 9781417550029 (ebook)
Subject Areas
LABOR MARKET ISSUES; Employment relationships; Unions and collective bargaining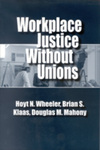 COinS
Citation
Wheeler, Hoyt N., Brian S. Klaas, and Douglas M. Mahony. 2004. Workplace Justice Without Unions. Kalamazoo, MI: W.E. Upjohn Institute for Employment Research. https://doi.org/10.17848/9781417550029
Creative Commons License


This work is licensed under a Creative Commons Attribution-NonCommercial-Share Alike 4.0 International License.