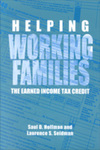 Publication Date
1-1-2003
DOI
10.17848/9780585441559
Abstract
Hoffman and Seidman offer a thorough assessment of the EITC in which they analyze, evaluate, summarize, and critique the state of the program. They find that, overall, the EITC works well, and that it has earned its political popularity. Yet they also uncover several problem areas that they address with specific recommendations based on their analysis.
ISBN
9780880992541 (cloth) ; 9780880992534 (pbk.) ; 9780585441559 (ebook)
Subject Areas
UNEMPLOYMENT, DISABILITY, and INCOME SUPPORT PROGRAMS; Poverty and income support; EITC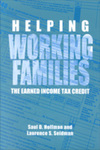 Included in
COinS
Citation
Hoffman, Saul D., and Laurence S. Seidman. 2003. Helping Working Families: The Earned Income Tax Credit. Kalamazoo, MI: W.E. Upjohn Institute for Employment Research. https://doi.org/10.17848/9780585441559
Creative Commons License


This work is licensed under a Creative Commons Attribution-NonCommercial-Share Alike 4.0 International License.