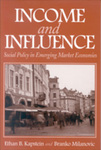 Publication Date
1-1-2003
DOI
10.17848/9780585469676
Abstract
The authors study the connection between economic reform and social policy, and why such reforms failed to produce the tide needed to lift all boats in the transition economies of eastern and central Europe and of Asia.
Files
Download 1. Social Policy in Emerging Market Economies (127 KB)
ISBN
9780880992701 (cloth) ; 9780880992695 (pbk.) ; 9780585469676 (ebook)
Subject Areas
INTERNATIONAL ISSUES; International labor comparisons; Transition economies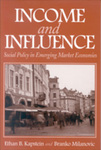 COinS
Citation
Kapstein, Ethan B., and Branko Milanovic. 2003. Income and Influence: Social Policy in Emerging Market Economies. Kalamazoo, MI: W.E. Upjohn Institute for Employment Research. https://doi.org/10.17848/9780585469676
Creative Commons License


This work is licensed under a Creative Commons Attribution-NonCommercial-Share Alike 4.0 International License.