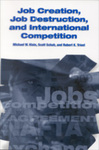 Publication Date
1-1-2003
DOI
10.17848/9781417524426
Abstract
The authors present a picture of how the effects of international trade on employment in U.S. manufacturing industries vary widely. They explore the labor-market dynamics and adjustment costs associated with international factors, particularly the way fluctuations in exchange rates, overseas economic activity, and the altering of trade restrictions contribute to churning-the simultaneous job creation among some firms and job destruction among others.
ISBN
9780880992725 (cloth) ; 9780880992718 (pbk.) ; 9781417524426 (ebook)
Subject Areas
LABOR MARKET ISSUES; Job security and unemployment dynamics; Dislocated workers; Turnover; INTERNATIONAL ISSUES; Globalization; Trade issues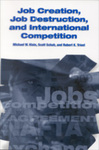 Included in
COinS
Citation
Klein, Michael W., Scott Schuh, and Robert K. Triest. 2003. Job Creation, Job Destruction, and International Competition. Kalamazoo, MI: W.E. Upjohn Institute for Employment Research. https://doi.org/10.17848/9781417524426
Creative Commons License


This work is licensed under a Creative Commons Attribution-NonCommercial-Share Alike 4.0 International License.