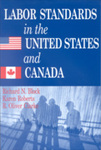 Publication Date
1-1-2003
DOI
10.17848/9780585469669
Abstract
Block, Roberts, and Clarke offer a method for comparing ten labor standards across political jurisdictions. They then apply this method to the United States and Canada, an exercise that allows them to settle the long-running dispute over whether or not Canada has higher standards than the U.S., and if so, to what degree.
ISBN
9780880992367 (cloth) ; 9780880992350 (pbk.) ; 9780585469669 (ebook)
Subject Areas
LABOR MARKET ISSUES; Employment relationships; Unions and collective bargaining; Job security and unemployment dynamics; Wages, health insurance and other benefits; Minimum wage; UNEMPLOYMENT, DISABILITY, and INCOME SUPPORT PROGRAMS; Unemployment insurance; Benefits and duration; Workers compensation and disability; Occupational health and safety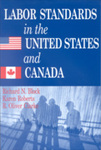 Included in
COinS
Citation
Block, Richard N., Karen Roberts, and R. Oliver Clarke. 2003. Labor Standards in the United States and Canada. Kalamazoo, MI: W.E. Upjohn Institute for Employment Research. https://doi.org/10.17848/9780585469669
Creative Commons License


This work is licensed under a Creative Commons Attribution-NonCommercial-Share Alike 4.0 International License.