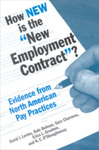 Publication Date
1-1-2002
DOI
10.17848/9780585470283
Abstract
This book explores this apparent change in the employment contract. Whereas earlier studies in this area focused on the rigidities in the quantity side of the employment relationship, e.g., changes in job tenure and rates of displacement, the authors focus on the price side of the contract - whether wage structures have become more flexible.
ISBN
9780880992329 (cloth) ; 9780880992312 (pbk.) ; 9780585470283 (ebook)
Subject Areas
LABOR MARKET ISSUES; Job security and unemployment dynamics; Wages, health insurance and other benefits; Inequality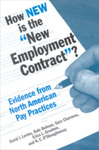 Included in
COinS
Citation
Levine, David I., Dale Belman, Gary Charness, Erica L. Groshen, and K.C. O'Shaughnessy. 2002. How New Is the "New Employment Contract"?: Evidence from North American Pay Practices. Kalamazoo, MI: W.E. Upjohn Institute for Employment Research. https://doi.org/10.17848/9780585470283
Creative Commons License


This work is licensed under a Creative Commons Attribution-NonCommercial-Share Alike 4.0 International License.