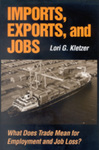 Title
Imports, Exports, and Jobs: What Does Trade Mean for Employment and Job Loss?
DOI
10.17848/9780585441542
Abstract
Kletzer adds to our understanding of the magnitude of the costs and benefits of free trade. She presents a focused examination of the relationship between changes in international trade, employment, and job displacement for a sample of U.S. manufacturing industries. The link between international trade and domestic jobs is also explored through studies of both net and gross employment job change.
ISBN
9780880992473 (pbk.) ; 9780880992480 (cloth) ; 9780585441542 (ebook)
Subject Areas
LABOR MARKET ISSUES; Job security and unemployment dynamics; Dislocated workers; INTERNATIONAL ISSUES; Globalization; Offshoring; Trade issues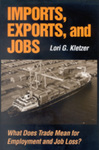 COinS
Citation
Kletzer, Lori G. 2002. Imports, Exports, and Jobs: What Does Trade Mean for Employment and Job Loss? Kalamazoo, MI: W.E. Upjohn Institute for Employment Research. https://doi.org/10.17848/9780585441542