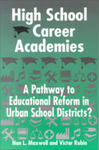 Title
High School Career Academies: A Pathway to Education Reform in Urban School Districts?
DOI
10.17848/9780880994163
Abstract
Maxwell and Rubin examine the capacity of career academies to address academic reform in terms of increased education and workplace skills. They accomplish this on two levels. First, they assess academies' development and implementation within an urban school district. Then they assess academies' potential to promote postsecondary success among academy students as compared to nonacademy students. Their findings will help educators and policymakers better understand the strengths and limitations of this method of reform.
ISBN
9780880992138 (pbk.) ;9780880992145 (cloth) ; 9780880994163 (ebook)
Subject Areas
EDUCATION; K-12 Education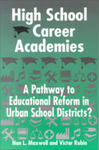 COinS
Citation
Maxwell, Nan L., and Victor Rubin. 2000. High School Career Academies: A Pathway to Education Reform in Urban School Districts? Kalamazoo, MI: W.E. Upjohn Institute for Employment Research. https://doi.org/10.17848/9780880994163