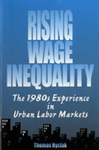 Publication Date
1-1-2000
DOI
10.17848/9780880995948
Abstract
Hyclak analyzes information not utilized in previous studies of wage inequality. Whereas researchers previously relied on data derived from the national labor market, Hyclak draws on data from the Area Wage Surveys (AWS), which allows him to focus on changes in the wage structure in a sample of 20 local labor markets for the period of 1974 to 1991. This source also allows him to examine changes in the structure of wages paid for some 40 different jobs found in four different occupational groups. In addition, Hyclak is able to concentrate on jobs and the skills required as the primary determinant of wages, an approach, he says, that complements the more traditional human capital wage model that emphasizes the personal characteristics of workers.
ISBN
9780880992084 (cloth) ; 9780880992077 (pbk.) ; 9780880995948 (ebook)
Subject Areas
LABOR MARKET ISSUES; Wages, health insurance and other benefits; Inequality; ECONOMIC DEVELOPMENT; Regional policy and planning; Urban issues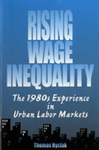 COinS
Citation
Hyclak, Thomas. 2000. Rising Wage Inequality: The 1980s Experience in Urban Labor Markets. Kalamazoo, MI: W.E. Upjohn Institute for Employment Research. https://doi.org/10.17848/9780880995948
Creative Commons License


This work is licensed under a Creative Commons Attribution-NonCommercial-Share Alike 4.0 International License.