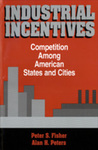 Publication Date
1-1-1998
DOI
10.17848/9780585308401
Abstract
This book is the first significant attempt to quantify the development efforts made by state and local governments. The authors' extensive research focuses on tax and incentive policies across the 24 most industrialized states in the United States and a sample of 112 cities from within those states.
Files
Download 1. State and Local Incentive Competition for New Investment (2.1 MB)
ISBN
9780880991841 (cloth) ; 9780880991834 (pbk.) ; 9780585308401 (ebook)
Subject Areas
ECONOMIC DEVELOPMENT; Regional policy and planning; Business and tax incentives; Urban issues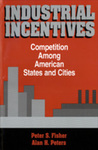 COinS
Citation
Fisher, Peter S., and Alan H. Peters. 1998. Industrial Incentives: Competition Among American States and Cities. Kalamazoo, MI: W.E. Upjohn Institute for Employment Research. https://doi.org/10.17848/9780585308401
Creative Commons License


This work is licensed under a Creative Commons Attribution-NonCommercial-Share Alike 4.0 International License.