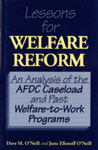 Publication Date
1-1-1997
DOI
10.17848/9780880996549
Abstract
The authors have compiled and analyzed data that identifies historical trends in the AFDC caseload, the personal characteristics of recipients, and broad patterns of welfare participation. They also offer an evaluative survey on the effectiveness of past education, training and workfare programs in reducing the AFDC caseload.
Sponsorship
Commissioned in 1992 by the former National Commission on Employment Policy (NCEP); completed in 1994
ISBN
9780880991803 (cloth) ; 9780880991797 (pbk.) ; 9780880996549 (ebook)
Subject Areas
UNEMPLOYMENT, DISABILITY, and INCOME SUPPORT PROGRAMS; Poverty and income support; Income support programs; WORKFORCE DEVELOPMENT; Public training programs; Welfare to work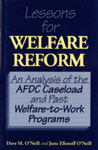 Included in
COinS
Citation
O'Neill, Dave M., and June Ellenoff O'Neill. 1997. Lessons for Welfare Reform: An Analysis of the AFDC Caseload and Past Welfare-to-Work Programs. Kalamazoo, MI: W.E. Upjohn Institute for Employment Research. https://doi.org/10.17848/9780880996549
Creative Commons License


This work is licensed under a Creative Commons Attribution-NonCommercial-Share Alike 4.0 International License.