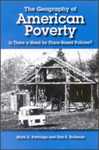 Publication Date
9-28-2006
DOI
10.17848/9781429454872
Abstract
Partridge and Rickman explore the wide geographic disparities in poverty across the United States. Their focus on the spatial dimensions of U.S. poverty reveals distinct differences across states, metropolitan areas, and counties and leads them to consider why antipoverty policies have succeeded in some places and failed in others.
Files
Download 1. Spatial Concentration of American Poverty: Should We Care, and What Are the Options? (453 KB)
ISBN
9780880992879 (cloth) ; 9780880992862 (pbk.) ; 9781429454872 (ebook)
Subject Areas
ECONOMIC DEVELOPMENT; Regional policy and planning; Urban issues; UNEMPLOYMENT, DISABILITY, and INCOME SUPPORT PROGRAMS; Poverty and income support; Income support programs; Low wage labor markets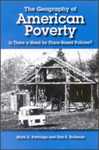 COinS
Citation
Partridge, Mark D., and Dan S. Rickman. 2006. The Geography of American Poverty: Is There a Need for Place-Based Policies?. Kalamazoo, MI: W.E. Upjohn Institute for Employment Research. https://doi.org/10.17848/9781429454872
Creative Commons License


This work is licensed under a Creative Commons Attribution-NonCommercial-Share Alike 4.0 International License.