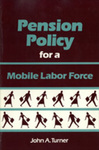 Publication Date
1-1-1993
DOI
10.17848/9781441635976
Abstract
Employers often create a conflict between job mobility and retirement security when they deny future pension benefits to workers who quit a job before reaching retirement age. Unfortunately, this deterrent to job-changing inhibits the labor market's ability to adjust. It also means workers may be unprepared financially upon retirement. Turner describes why pension losses are such a significant problem and presents empirical evidence as to the number of workers affected and the amount of losses they incur. He also probes pension portability policy options and looks at portability options in effect in Canada, Japan, the Netherlands, and the United Kingdom.
Files
Download 1. Job Mobility and Pension Portability (605 KB)
ISBN
9780880991346 (cloth) ; 9780880991339 (pbk.) ; 9781441635976 (ebook)
Subject Areas
LABOR MARKET ISSUES; Job security and unemployment dynamics; Retirement and pensions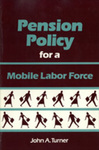 Included in
COinS
Creative Commons License


This work is licensed under a Creative Commons Attribution-NonCommercial-Share Alike 4.0 International License.