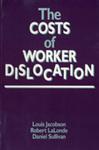 Publication Date
1-1-1993
DOI
10.17848/9780585282992
Abstract
The authors use findings from this study, in conjunction with their comprehensive interpretation of existing worker dislocation literature, to develop policy recommendations concerning prevailing and potential assistance programs. They conclude by proposing that any new policies designed to compensate dislocated workers should target those suffering the greatest losses while providing incentives to take new jobs - even if lower paying - as soon as possible. Programs which allow dislocated workers to receive compensation after regaining employment (modified earnings subsidies) are promoted as practical and financially feasible.
ISBN
9780880991438 (pbk.) ; 9780585282992 (ebook)
Subject Areas
LABOR MARKET ISSUES; Job security and unemployment dynamics; Dislocated workers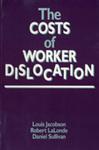 Included in
COinS
Citation
Jacobson, Louis, Robert LaLonde, and Daniel Sullivan. 1993. The Costs of Worker Dislocation. Kalamazoo, MI: W.E. Upjohn Institute for Employment Research. https://doi.org/10.17848/9780585282992
Creative Commons License


This work is licensed under a Creative Commons Attribution-NonCommercial-Share Alike 4.0 International License.