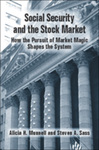 Publication Date
10-31-2006
DOI
10.17848/9781429454896
Abstract
Munnell and Sass explore whether equities could help solve the woes facing the U.S. retirement income system in general, and the Social Security shortfall in particular. They examine the experiences of three nations that added equities to the investment mix of their retirement systems—the U.K., Australia, and Canada. As these experiences show, while equities promise higher returns than government bonds, how they are implemented—as add-ons, carve-outs, or as trust fund supplements—matters greatly.
ISBN
9780-880992916 (cloth) ; 9780880992909 (pbk.) ; 9781429454896 (ebook)
Subject Areas
LABOR MARKET ISSUES; Retirement and pensions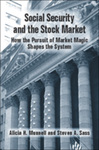 Included in
COinS
Citation
Munnell, Alicia H., and Steven A. Sass. 2009. Social Security and the Stock Market: How the Pursuit of Market Magic Shapes the System. Kalamazoo, MI: W.E. Upjohn Institute for Employment Research. https://doi.org/10.17848/9781429454896
Creative Commons License


This work is licensed under a Creative Commons Attribution-NonCommercial-Share Alike 4.0 International License.