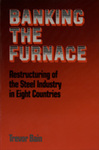 Publication Date
1-1-1992
DOI
10.17848/9780880995399
Abstract
Trevor Bain explores the industry restructurings that occurred in eight major steel-producing countries, including the U.S., Germany and Japan. He begins by categorizing each country as having either an adversarial or a cooperative industrial relations system, and then analyzes the differences in implementation strategies. He also determines who - employers, employees, or government - bore the cost of these adjustments and which industrial relations systems were more efficient in restructuring.
ISBN
9780880991278 (pbk.) ; 9780880995399 (ebook)
Subject Areas
LABOR MARKET ISSUES; Employment relationships; Unions and collective bargaining; INTERNATIONAL ISSUES; International labor comparisons; Transition economies; ECONOMIC DEVELOPMENT; Industry studies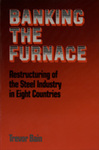 Included in
COinS
Citation
Bain, Trevor. 1992. Banking the Furnace: Restructuring of the Steel Industry in Eight Countries. Kalamazoo, MI: W.E. Upjohn Institute for Employment Research. https://doi.org/10.17848/9780880995399
Creative Commons License


This work is licensed under a Creative Commons Attribution-NonCommercial-Share Alike 4.0 International License.