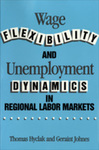 Publication Date
1-1-1992
DOI
10.17848/9780585320250
Abstract
Hyclak and Johnes explore the extent to which wage rigidity differs across regional labor markets in the U.S. and how it affects the unemployment response to shifts in regional aggregate demand. They also look at the determinants of differences in wage rigidity across regional labor markets.
ISBN
9780880991209 (pbk.) ; 9780585320250 (ebook)
Subject Areas
LABOR MARKET ISSUES; Wages, health insurance and other benefits; ECONOMIC DEVELOPMENT; Local labor markets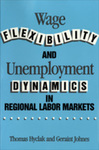 Included in
COinS
Citation
Hyclak, Thomas, and Geraint Johnes. 1992. Wage Flexibility and Unemployment Dynamics in Regional Labor Markets. Kalamazoo, MI: W.E. Upjohn Institute for Employment Research. https://doi.org/10.17848/9780585320250
Creative Commons License


This work is licensed under a Creative Commons Attribution-NonCommercial-Share Alike 4.0 International License.