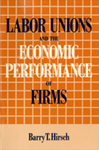 Publication Date
1-1-1991
DOI
10.17848/9780585283005
Abstract
Hirsch develops a model of union rent-seeking in which the unions capture a share of quasi-rents that make up the normal ROI in long-lived capital and R&D. He finds that in response, firms adjust their investments in vulnerable tangible and intangible capital. Hirsch also attempts to explain the connection between the contraction of the size of unions which occurred in the 1970s and firms' lower profitability, diminished market value, and lower investment levels.
ISBN
9780880991100 (pbk.) ; 9780585283005 (ebook)
Subject Areas
LABOR MARKET ISSUES; Employment relationships; Unions and collective bargaining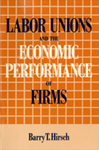 COinS
Creative Commons License


This work is licensed under a Creative Commons Attribution-NonCommercial-Share Alike 4.0 International License.